Porter
Port Information
Submitted: Jan 28 2010 06:13 PM
Last Updated: Feb 11 2013 11:35 PM
Views: 2220
Downloads: 245
Wrapper Type & Video Card Compatibility
Wrapper Type: Wineskin
Wine Version: WS2.5.8 - CX12 (Wine 1.5.15)
ATI / AMD: GREEN (fully playable)
NVIDIA: GREY (not tested)
Intel GMA: GREEN (fully playable)
Intel HD: GREY (not tested)
Wrapper Type Info
Note:
Wrappers have different Mac OS X compatibility!
Wineskin:
10.5
10.6
10.7
10.8
Cider:
10.5
10.6
10.7
10.8
CXZ/CXEx:
10.5
10.6
10.7
10.8
What is WINE & what is a Wrapper?
Video Card Info
GREY
= not tested
GREEN
= fully playable
YELLOW
= playable with minor glitches
ORANGE
= playable with some effort
RED
= severe glitches / unplayable
Please vote for the Quality of this Port / Wrapper, not for the Game or Application!
1
Description:
This game describes an alternative view of the future where the Earth is overrun by Demons. Humans have clashed, and eventually learned to co-exist with them. The player is a "Demon Buster" (or DB for short), who fights and interacts with these Demons; featuring Japanese anime-like graphics, with the added feature of futuristic devices (such as portable computers that players wear around their arms called COMPs) the game can appeal to a wide range of fans.
The gameplay consists of real-time strategic commands, each with a "casting" and "cool-down" time. The player character is primarily controlled by the number keys and mouse. While the player's demon generally acts on AI, it can be manually given actions with the F keys. Properly using the player character's commands in tandem with their demon companion's can significantly increase the player's battling efficiency. Additionally, it is wise to use demons whose attacks do not compete with the player character, but provide more options. For example, a pair of two close-ranged characters would throw off each others' strategic timing, but a close-range human would be more supported with their demon's long-range attacks for maximum efficiency.
Go visit the
oficial website
to make an account.
System spects:
Processor: Intel

RAM: 2GB+

GPU: ATI X1600+, GMA X3100+

HD: 5GB

OS: Mac OS X 10.6
Know issues:
Regarding the wrapper:


The launchers embedded browser is not displaying correctly the HTML but you can live without it.

Rarely your mouse will lose focus and you wont be able of clicking anything. A work around is setting (in-game) 2 keyboard shortcuts 1 for disabling and 1 for hiding the interface. So when this happen you just press these keys twice. The interface will quit and show again and your mouse will be functional again.
Regarding the game itself:


Seriously you are better not knowing... Just follow my advice, do not waste real money in this game until you reach like lv 50 so you have all the elements to decide if paying is a scam or the game is good enough.
Screenshots: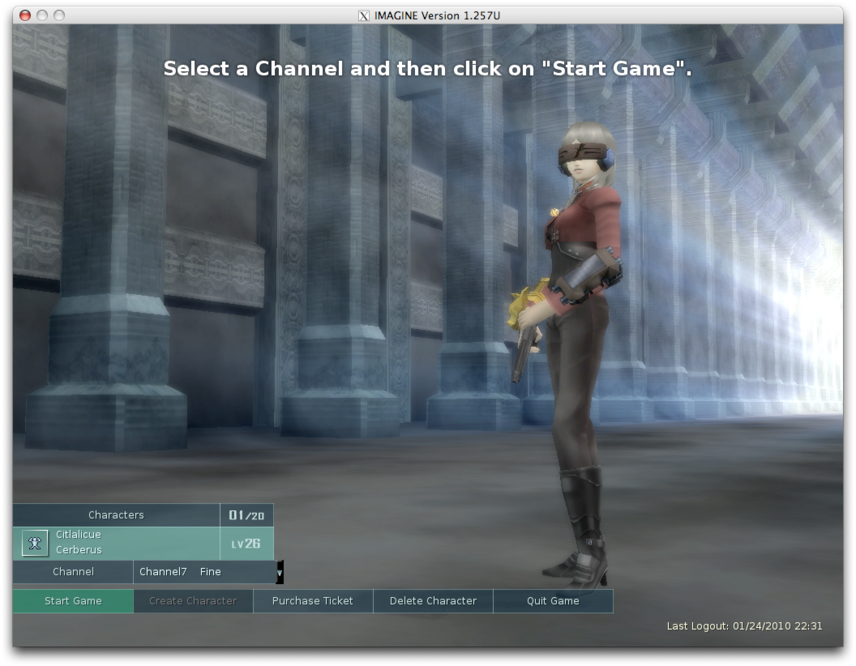 Fixed:
- Background rendering at some zones (like Service entrance).
- Updated for playing at Atlus servers
Changed:
- Removed MS Direct X, it is no longer needed
- Launcher isn't that ugly now =3
- Added some tools for helping with Demon fusion
To do:
- Launcher's web content is not displayed correctly
55 user(s) are online (in the past 15 minutes)
16 members, 38 guests, 1 anonymous users
Kumonseiko, cleagane, enjoy, CALVINP02, ISplatU, papalefist, luckone1892, Scatman_Crothers, eempje, bingodingo, johnnyPortingTeam, Pierrot93, TomReiss, TheToxicYeti, Ageless_Khan, Gundrust
Shin Megami Tensei Imagine Online