Porter
Port Information
Submitted: Jul 03 2010 11:35 AM
Last Updated: Jan 10 2012 11:14 PM
Views: 2374
Downloads: 86
Wrapper Type & Video Card Compatibility
Wrapper Type: CXZ / CXEx
Wine Version: CXZ Black Diamond
ATI / AMD: GREY (not tested)
NVIDIA: GREY (not tested)
Intel GMA: GREY (not tested)
Intel HD: GREY (not tested)
Wrapper Type Info
Note:
Wrappers have different Mac OS X compatibility!
Wineskin:
10.5
10.6
10.7
10.8
Cider:
10.5
10.6
10.7
10.8
CXZ/CXEx:
10.5
10.6
10.7
10.8
What is WINE & what is a Wrapper?
Video Card Info
GREY
= not tested
GREEN
= fully playable
YELLOW
= playable with minor glitches
ORANGE
= playable with some effort
RED
= severe glitches / unplayable
Please vote for the Quality of this Port / Wrapper, not for the Game or Application!
0
Quake III Arena (also known as Quake 3; abbreviated as Q3A or Q3), is a multiplayer first-person shooter computer and video game released on December 2, 1999. The game was developed by id Software and featured music composed by Sonic Mayhem and Front Line Assembly. Quake III Arena is the third in the series and differs from previous games by excluding a traditional single-player element and focusing on multi-player action. The single-player is instead played against computer controlled bots in a similar style to Unreal Tournament.
Notable features of Quake 3 include the minimalist design, lacking rarely used items and features, the extensive customizability of player settings such as field of view, texture detail and enemy model, and advanced movement features such as strafe and rocket-jumping.
Personal Notes:
I ported Quake III Arena to Mac because I was a fan of all the quake games.
Tested Game-Version: US Release
Sci-Fi First Person Shooter
Review
Walkthrough
Screenshots
1. Port Info
CXZ Black Diamond Port
requires CXZ Black Diamond Engine
2. minimum System Requirements:
- 3D graphics accelerator with full OpenGLsupport,
- Pentium II 233 MHz or AMD 350 MHzK6-2 processor or Athlon processor,
- 64 MBRAM, 8 MB video card,
- 500 MB of free hard drive space,
- 100% DirectX 3.0 or higher compatible sound card,
- CD-ROM drive (600kB/s sustained transfer rate)
This runs on ANY computer.
3. Known Issues:
- Mouse issue only allowing you to turn 180 degrees, happens rarely (After playing the bug fixes itself somehow)
4. Installation:
- If you don't already own the game you will have to buy it or download it and apply a no-CD patch available at
http://m0001.gamecop...ke3_arena.shtml
Screenshots: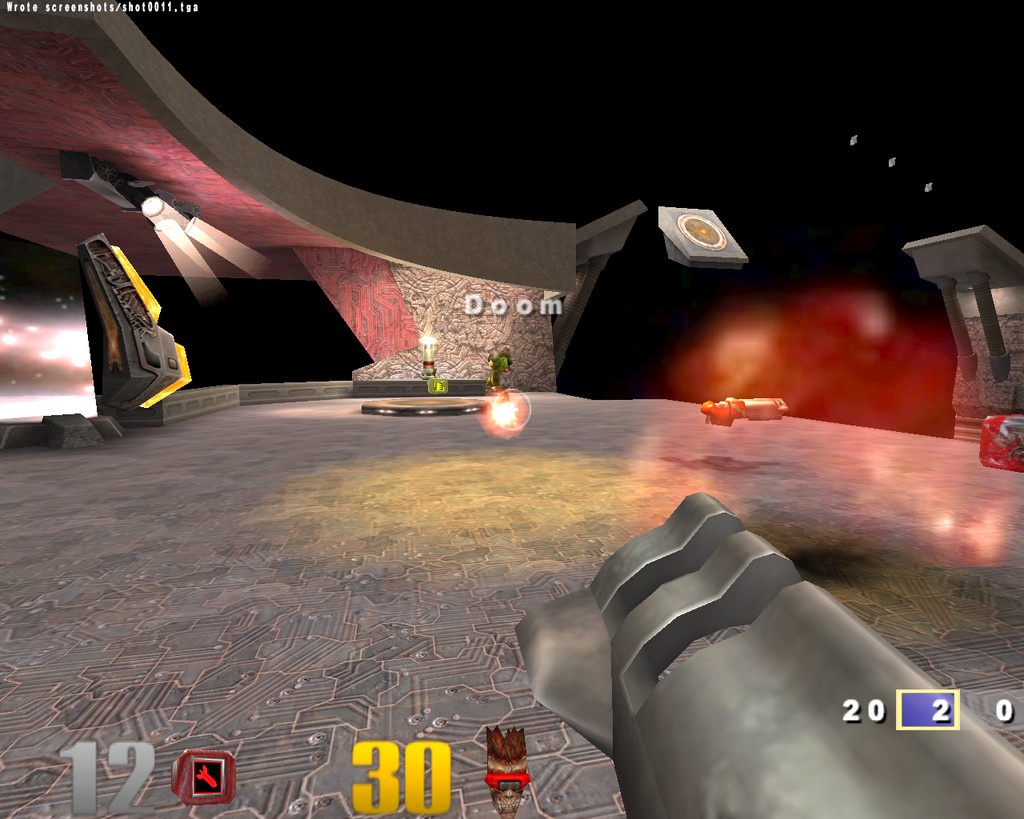 Game Videos:
1,604

Total Ports

80

Total Categories

281

Total Authors

394,938

Total Downloads
Zoo Tycoon Latest Port

bonjour2X

Latest Submitter
65 user(s) are online (in the past 15 minutes)
18 members, 45 guests, 2 anonymous users
chrisfuzex, miguelturcios98, evanwalsh, noelfernandez, lisapower, superwedgee, cyber10matt, leweb, Tomdavis, cjniven, JNY, ser3n1ty, PietroMarchi, peterspamkikker, larsgog, AppleGuyRL, Masterwizard, laffytaffy
Quake III Arena