Porter
Port Information
Submitted: May 23 2010 10:42 AM
Last Updated: Mar 05 2012 12:26 AM
Views: 3112
Downloads: 96
Wrapper Type & Video Card Compatibility
Wrapper Type Info
Note:
Wrappers have different Mac OS X compatibility!
Wineskin:
10.6
10.7
10.8
10.9
Cider:
10.6
10.7
10.8
10.9
CXZ/CXEx:
10.6
10.7
10.8
10.9
What is WINE & what is a Wrapper?
Video Card Info
GREY
= not tested
GREEN
= fully playable
YELLOW
= playable with minor glitches
ORANGE
= playable with some effort
RED
= severe glitches / unplayable
Please vote for the Quality of this Port / Wrapper, not for the Game or Application!
0
Please Post a reply if you take this game. I put a lot of efffort and time in making this possible. Thanks.
Holiday Lemmings:
Based on the original classic game Lemmings, Holiday Lemmings was a small stand-alone game that was released during the early 1990s holiday seasons. It features classic Lemmings gameplay, only with Christmas-themed levels. The basic objective is to use the Lemmings' special abilities to create a path to the exit that all the Lemmings can follow. Your goal is to try and keep as many Lemmings alive as possible.
Controls:
Mouse.
Notes:
This game includes amiga500 kickrom. Be legal and buy the amiga forever pack so cloanto will get there part for there work/licenses.
This strategy game was played very often, hearing seeing all those lemmings go and build and climb, and dig.....OH NO!!!
The amiga version is so much better than DOS.......This is the version with christmas hats...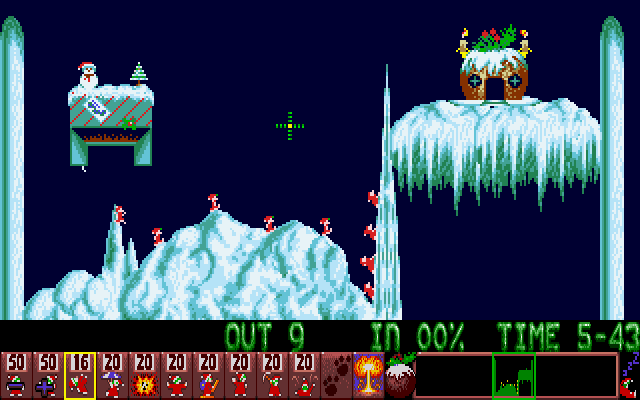 Have Fun!!
13 user(s) are online (in the past 15 minutes)
1 members, 11 guests, 0 anonymous users
vladvvv, Google
Holiday Lemmings