Porter
Port Information
Submitted: May 23 2010 12:28 PM
Last Updated: Mar 05 2012 12:20 AM
Views: 3965
Downloads: 121
Wrapper Type & Video Card Compatibility
Wrapper Type Info
Note:
Wrappers have different Mac OS X compatibility!
Wineskin:
10.6
10.7
10.8
10.9
Cider:
10.6
10.7
10.8
10.9
CXZ/CXEx:
10.6
10.7
10.8
10.9
What is WINE & what is a Wrapper?
Video Card Info
GREY
= not tested
GREEN
= fully playable
YELLOW
= playable with minor glitches
ORANGE
= playable with some effort
RED
= severe glitches / unplayable
Please vote for the Quality of this Port / Wrapper, not for the Game or Application!
1
Please Post a reply if you take this game. I put a lot of efffort and time in making this possible. Thanks.
Pinball Fantasies:
After the success of Pinball Dreams on several systems, a sequel featuring four new tables was created. The gameplay is much the same as the first game, with realistic physics, multi-player options and a high score table to aim for. The tables are Partyland, Speed Devils, Billion Dollar Gameshow and Stones 'n' Bones, taking in a funfair, racing cars, a tacky game-show, and a graveyard. Each one has a range of ramps, combos, light sequences and targets to shoot, as well as general themes which are less influenced by real tables than those in Pinball Dreams.
Controls:
F1-F5 game options, Left and right ctrl key for the flippers, The down cursor key for getting ball in game.
Press page down and page up, for more Pinball machines (4 in total)
Notes:
This game includes Amiga500 kickrom. Be legal and buy the amiga forever pack so cloanto will get there part for there work/licenses.
Windows Keyboard or apple keyboard with numlock required for "page up and Down" option!
One of the best Pinball ive played together with Pinball Dreams. Fun from the upper shelf with the greatest Sound/music.
THIS IS DISK VERSION, MUCH BETTER then CD32!!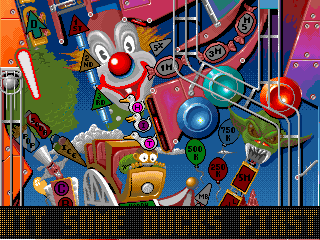 Have Fun!!
20 user(s) are online (in the past 15 minutes)
0 members, 19 guests, 0 anonymous users
Google
Pinball Fantasies