Porter
Port Information
Submitted: Jul 04 2010 12:08 AM
Last Updated: Jan 10 2012 11:13 PM
Views: 4406
Downloads: 167
Wrapper Type & Video Card Compatibility
Wrapper Type: CXZ / CXEx
Wine Version: CXZ Black Diamond
ATI / AMD: GREEN (fully playable)
NVIDIA: GREEN (fully playable)
Intel GMA: GREY (not tested)
Intel HD: GREY (not tested)
Wrapper Type Info
Note:
Wrappers have different Mac OS X compatibility!
Wineskin:
10.6
10.7
10.8
10.9
Cider:
10.6
10.7
10.8
10.9
CXZ/CXEx:
10.6
10.7
10.8
10.9
What is WINE & what is a Wrapper?
Video Card Info
GREY
= not tested
GREEN
= fully playable
YELLOW
= playable with minor glitches
ORANGE
= playable with some effort
RED
= severe glitches / unplayable
Please vote for the Quality of this Port / Wrapper, not for the Game or Application!
0
Quake is a first-person shooter video game that was released by id Software on June 22, 1996. It was the first game in the popularQuake series of video games. It was made available on Steam on August 3, 2007.[1]
Much of Quake's popularity occurred because it was one of the few games of its kind playable over the internet rather than just a local network.
Personal Notes:
Im going to port all the Quake games.
Tested Game-Version: US Release
Sci-Fi First Person Shooter
Review
Walkthrough
Screenshots
Port Info
CXZ Black Diamond Port
requires CXZ Black Diamond Engine
minimum System Requirements:
- OS: Mac OS X 10.4.11 Tiger / Mac OS X 10.5 Leopard / Mac OS X 10.6 Snow 66 MHz Processor
- FPU
- 8 MB RAM
- 80 MB Hard disk space
- 1 MB Graphics card
- IRIX 5.3 / Linux 1.3.88 / MS-DOS 5.0 / Solaris2.5.1 / Windows 95
Runs on ANY computer
Known Issues:
- None as of yet
Installation:
- As this is an old game, I doubt you would need a no-CD patch.
Screenshots: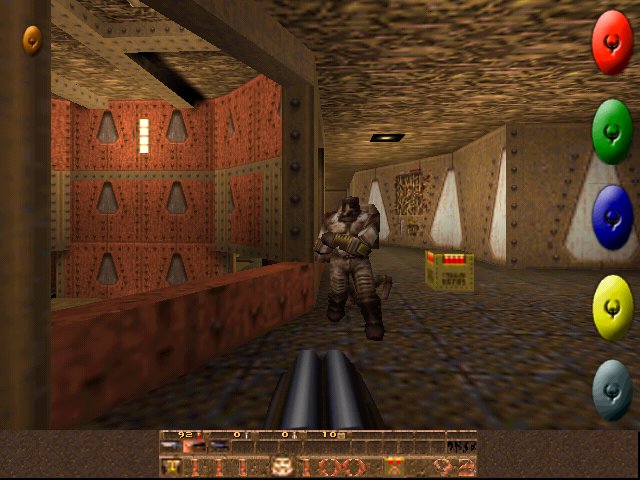 Game Videos:
6 user(s) are online (in the past 15 minutes)
1 members, 3 guests, 0 anonymous users
Google, Leftcoastkid24
Quake