Porter
Port Information
Submitted: Jul 17 2011 11:56 PM
Last Updated: Jan 16 2012 10:32 PM
Views: 16712
Downloads: 1,121
Wrapper Type & Video Card Compatibility
Wrapper Type: CXZ / CXEx
Wine Version: CXEx Aquamarine
ATI / AMD: GREEN (fully playable)
NVIDIA: GREEN (fully playable)
Intel GMA: GREEN (fully playable)
Intel HD: GREEN (fully playable)
Wrapper Type Info
Note:
Wrappers have different Mac OS X compatibility!
Wineskin:
10.6
10.7
10.8
10.9
Cider:
10.6
10.7
10.8
10.9
CXZ/CXEx:
10.6
10.7
10.8
10.9
What is WINE & what is a Wrapper?
Video Card Info
GREY
= not tested
GREEN
= fully playable
YELLOW
= playable with minor glitches
ORANGE
= playable with some effort
RED
= severe glitches / unplayable
Please vote for the Quality of this Port / Wrapper, not for the Game or Application!
7
Warhammer 40,000: Dawn of War: Soulstorm is the 3rd expansion to the PC-based RTS game Warhammer 40,000: Dawn of War series developed by Iron Lore Entertainment. Like its predecessors, Soulstorm is based on Games Workshop's popular tabletop wargame, Warhammer 40,000, and introduces a multitude of new features to the Dawn of War series.
Personal Notes:
Multiplayer works, you can play with all races in multiplayer too (as long as you leave the "games" folder alone). Not tested online but mods work.
Minimum System Requirements:
OS: Mac OS X 10.5 Leopard / Mac OS X 10.6 Snow Leopard / Mac OS X 10.7 Lion
CPU: Intel Core solo Processor
RAM: 1024MB but for some mods you might need a mac with 4 gigs of ram.
Video: nVidia 6xxx, 7xxx, 8xxx or 9xxx Series or ATI / AMD X1600, 2xxx, 3xxx, 4xxx or 5xxx Series Video Card
HD: 6 Gb (8+ if you want to use mods)
Compatibility with Intel GMA Series Video Cards has been tested on my old macbook and I can confirm that everything works fine
Known Issues:
None.
Installation:
Install the game into windows (or crossover). Copy the "Dawn of War - Soulstorm" folder into contents/root/c_drive/Program Files/THQ/ replacing my one. Please leave the Dark crusade folder alone. You don't need to install the first few games. It thinks they are allready there. (As long as the dark cursade folder and the games folders are there.)
Screenshots: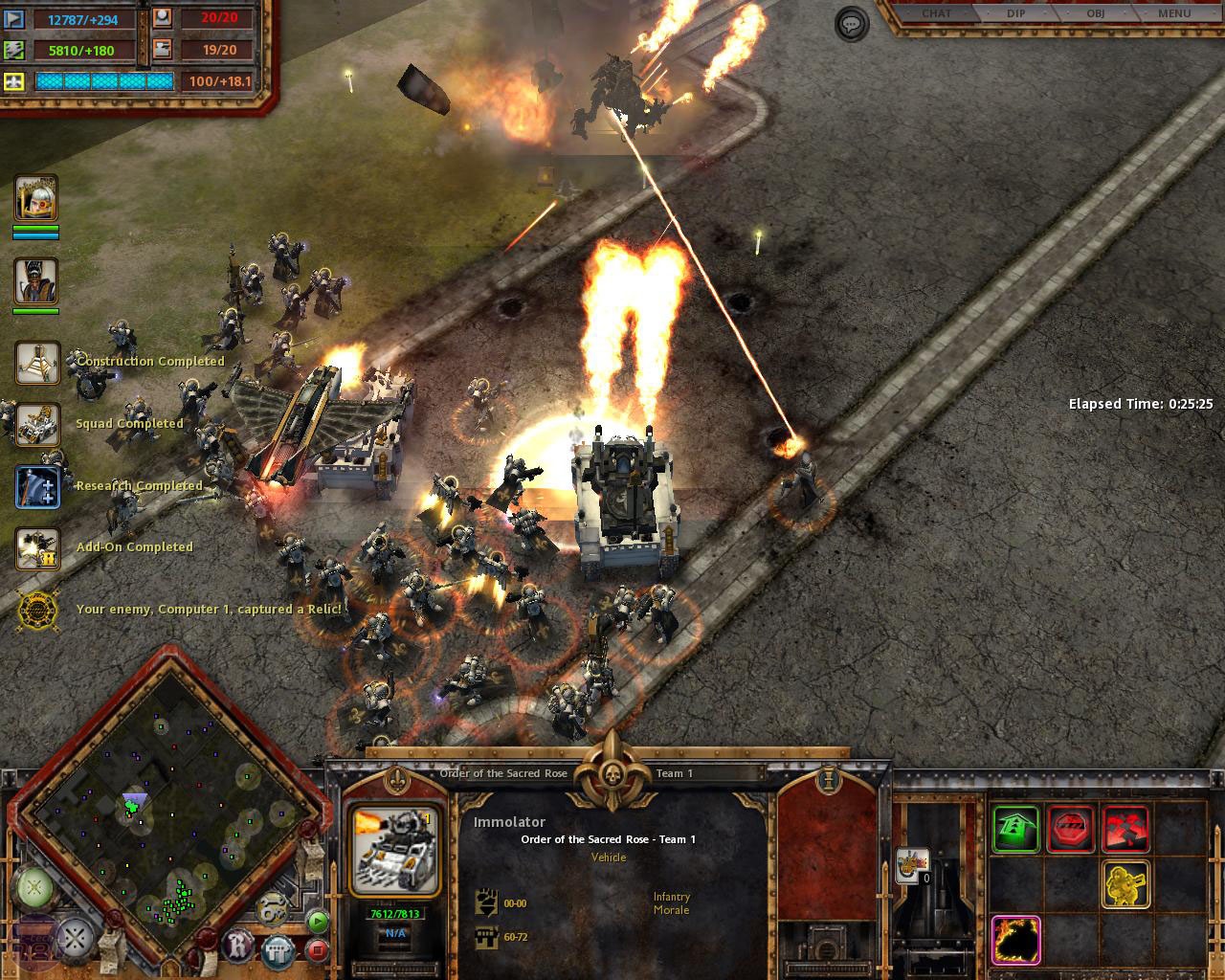 Game Videos:
9 user(s) are online (in the past 15 minutes)
0 members, 8 guests, 0 anonymous users
Google
Dawn of War - Soulstorm