This is a CXE Central Tutorial on how to use it.
If you do not know what the CXEx Wrapper System is, read all about it
here
We will make a Port together of "Swat III Demo".
1. Preparations.
The first thing to do is Check the game At to the
WineHQ Database
to check out if the Game is compatible with Wine or not.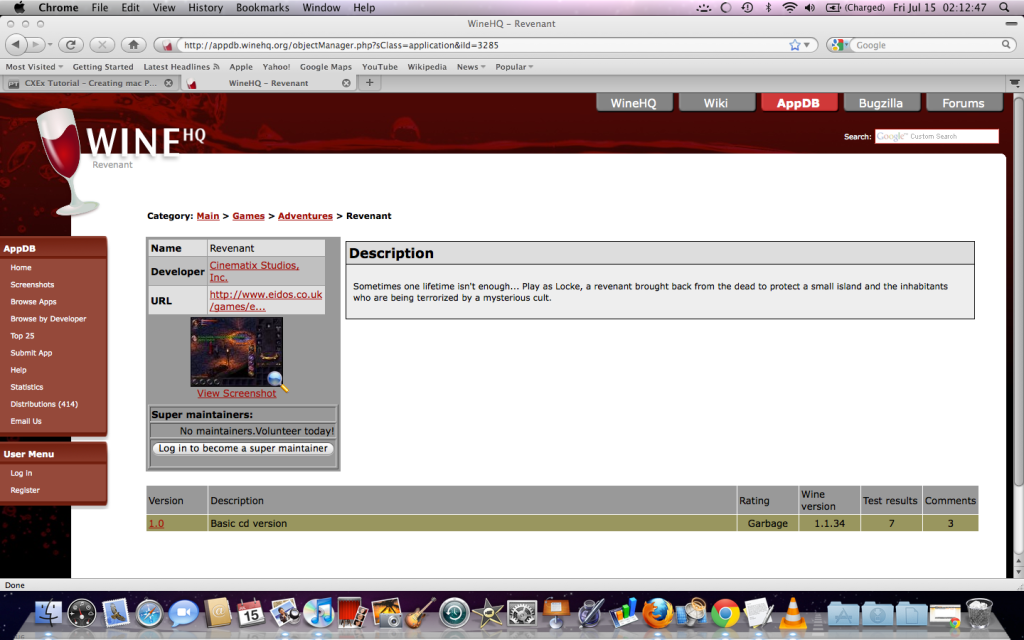 Looking at the colour there is:
Platinum - the game works 100%, usually with no tweaks to wine.
Gold - The game runs great, but there is some effort to get it working.
Silver - The game works okay but there is a few problems that make it annoying while playing, ie no sound.
Bronze - The game loads but there is something major the causes it to be unplayable. Ie Ultima IX - the mouse is drawn under the books and item screens making it where you have to guess where you are clicking. Or another example is not being able to save your game.
Garbage - does not even install or will install but you get a Black Screen of Death or some other error.
One thing to keep in mind some games are older and there are no tests results in over a year and may work now. One known example is Revenant - the game was rated Garbage with 7 test results with Wine version 1.1.34 and lower. However in Wine 1.2 it works fine.
2. Porting The Game
First we will get our game. In this case Swat 3.
Open up CXE Central in your Application Folder.
We will go to Central Options and click installer.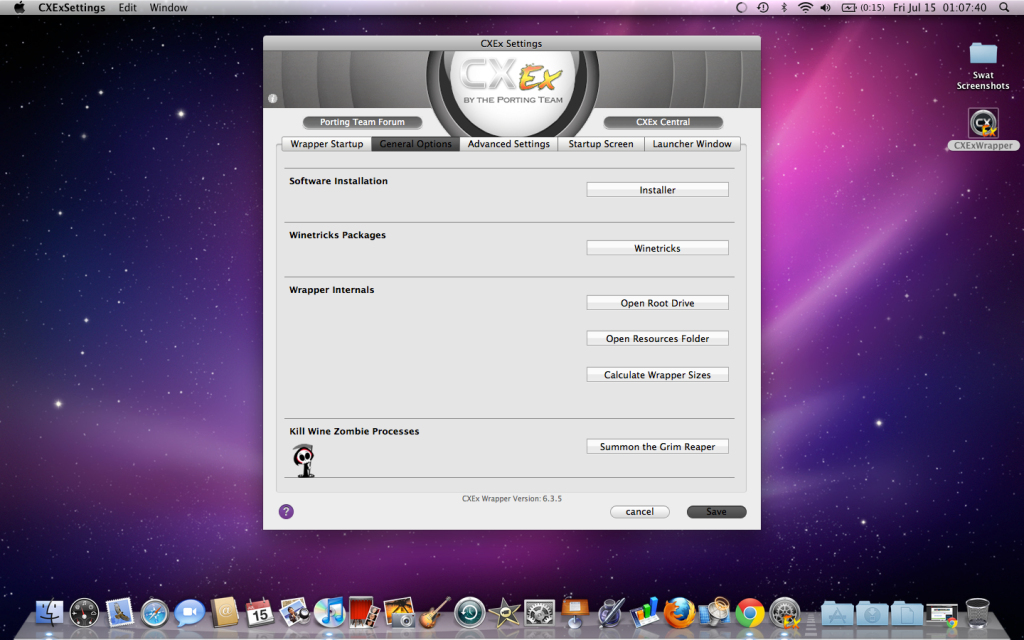 We will now choose the game installer in this case swat3demo.exe. If you are installing from a cd usually the exe will be called setup.exe etc
Follow the on screen instructions and continue.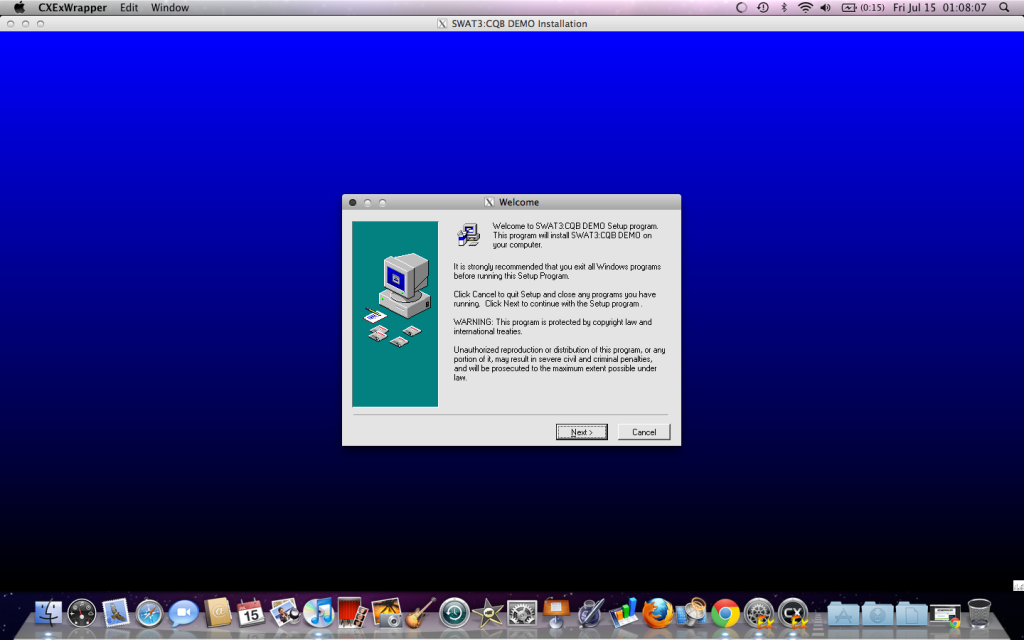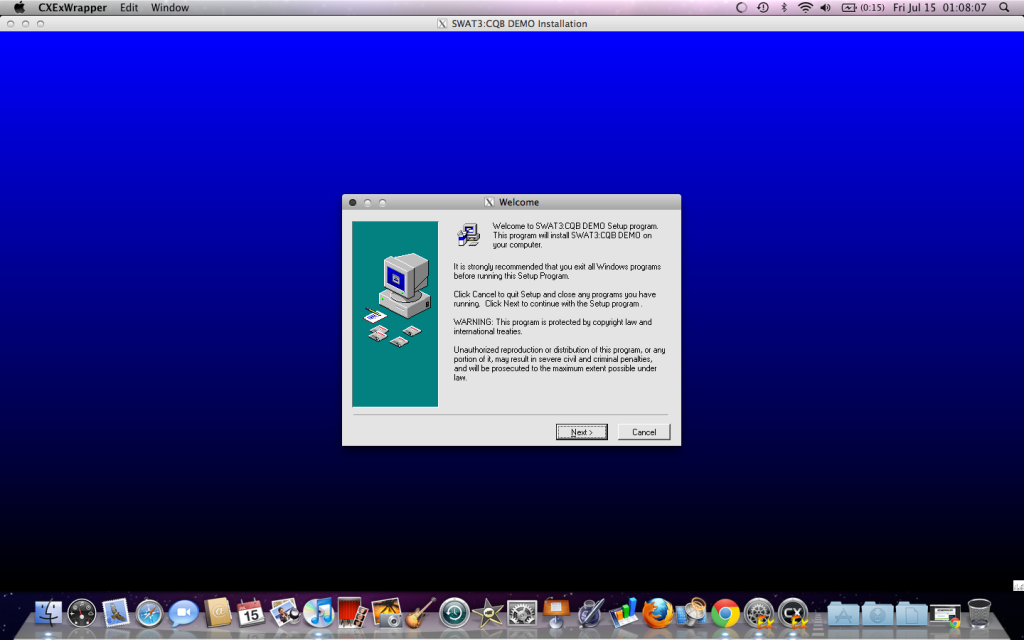 If we click on "Open Root Drive" under the wrapper internal section you can see where the game was installed. In our case drive_c/sierra/swat3demo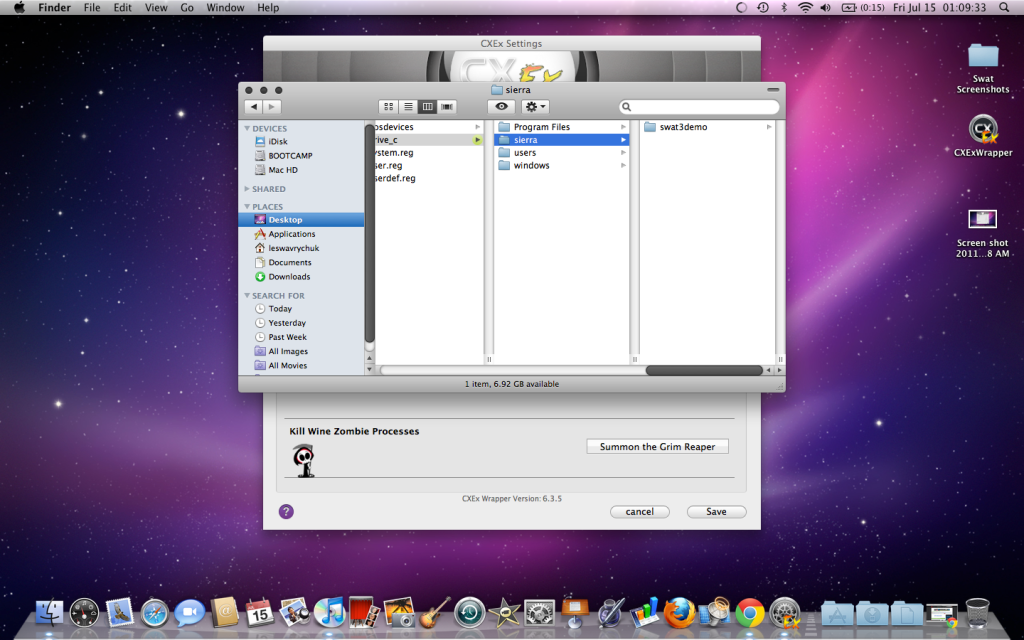 Next go to the Wrapper Startup Tab and Choose the Start up Executable: in our case "swat3demo.exe"
We now have the game installed and ready to run. If we were to click the wrapper.app now it would attempt to run the game. However we have other things we can and should do first.
3. Create a Startup Screen
First we will make our banner. You can download a picture to use as a banner from
Google images
or wherever. You can make your own if you wish.
The Banner needs to be saved as a .png and have dimensions of 540 x 100 - you can edit and save your pictures in preview or photoshop etc.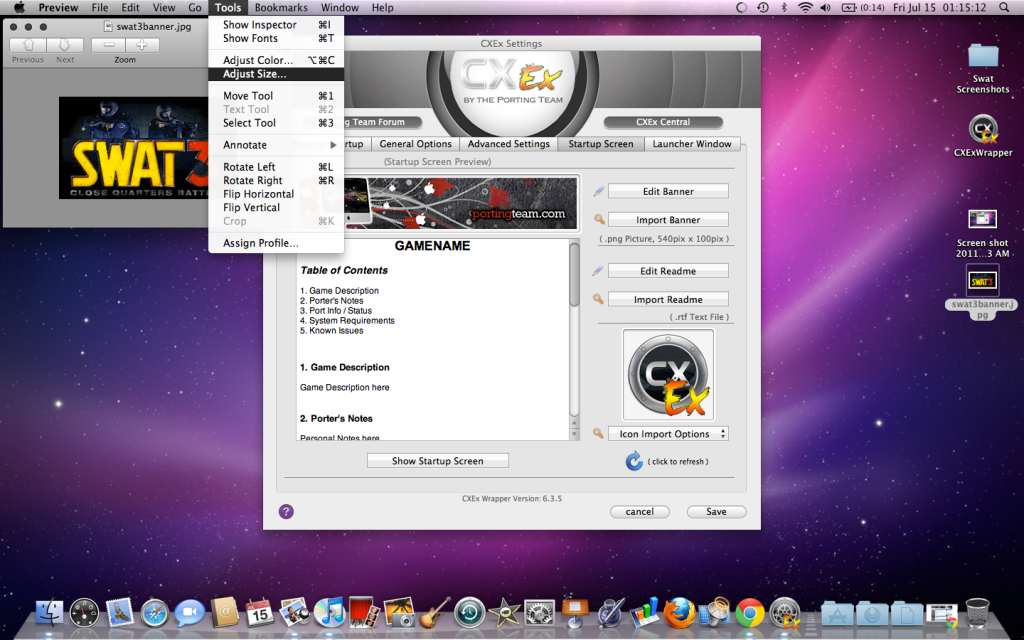 Once you have your banner saved as mybanner.png or whatever click on import banner and select your banner.png I chose swat3banner.png for the purpose of this guide.
Our banner will not show up right away. We need to either click refresh or save and reopen.
We will now edit the readme text - this will show up the first time the game is run and will descibe the details of your port. When you are done editing the readme - make sure to save it.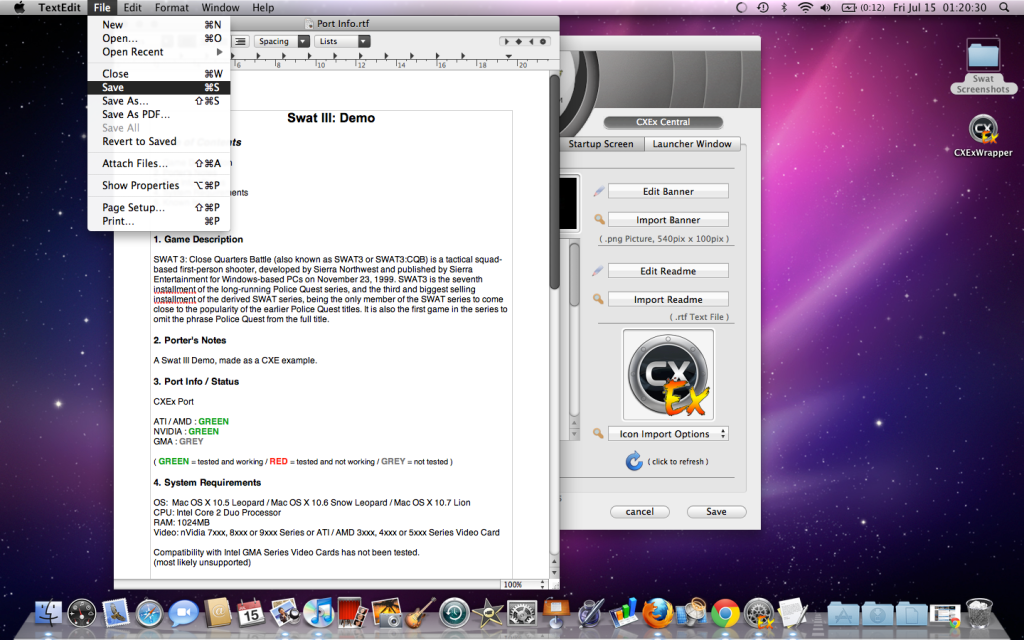 Next we will chose a game icon. You can either make your own or search icon archive or deviantart - CXE Central has a link to several game icons. Open up CXE Central again in your app folder and navigate to the misc utilities and click icon archive it will open up your browser and you can find several icons.
Right click on the icon to save it.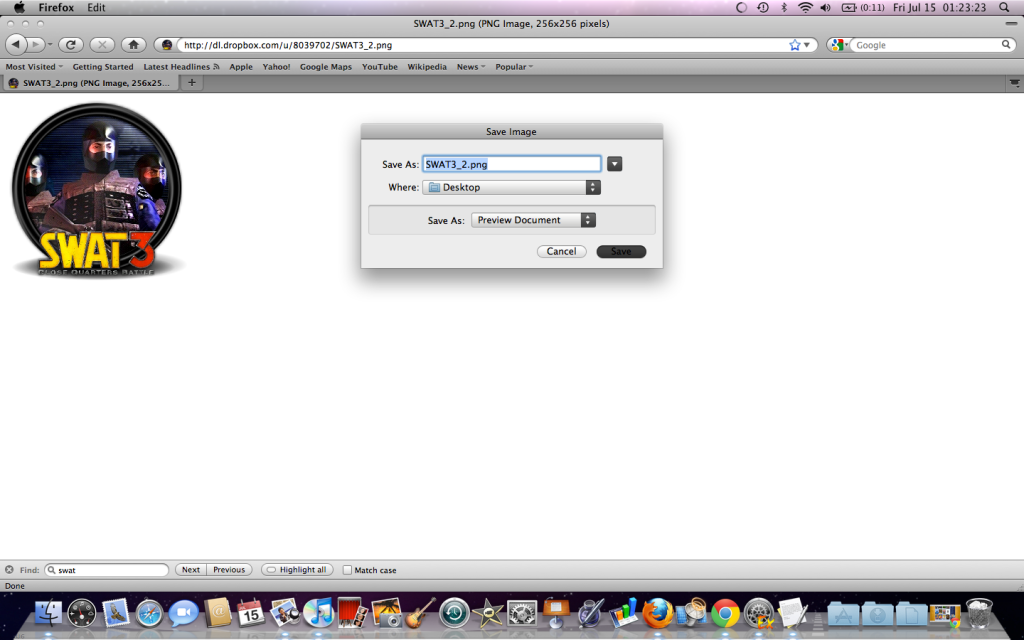 I downloaded the icon as a .png we need to make it a .icns file be able to use it. I recommend img2icns - it is a free app and will change and img file to a .icns by dragging and dropping.
Img2Icns can be found
here
.
We can now click on the Import Icon Options and choose import icon from .icns icon - and we can choose our Swat3_2.icns file.
If we now hit refresh or .app file will now show our new Icon instead of the default CXE Icon.
4. Launcher Window
We can now go and make a custom launcher (you can skip this step if you wish, if so go to Step 5)
First thing we will do is click the use custom launcher box:
If we click show launcher window it will look like this:
This is default launcher we will make a custom one four our wrapper together.
First let us get a new background picture - we can get one from Google Images again or we can use our Icon, as the Game's logo does good in a Launcher Wallpaper. The background size will be set as 750x500 (again use Preview or Photoshop) also the picture must be in a .png format. When you have your picture ready click on importbackground picture and select your background.png file.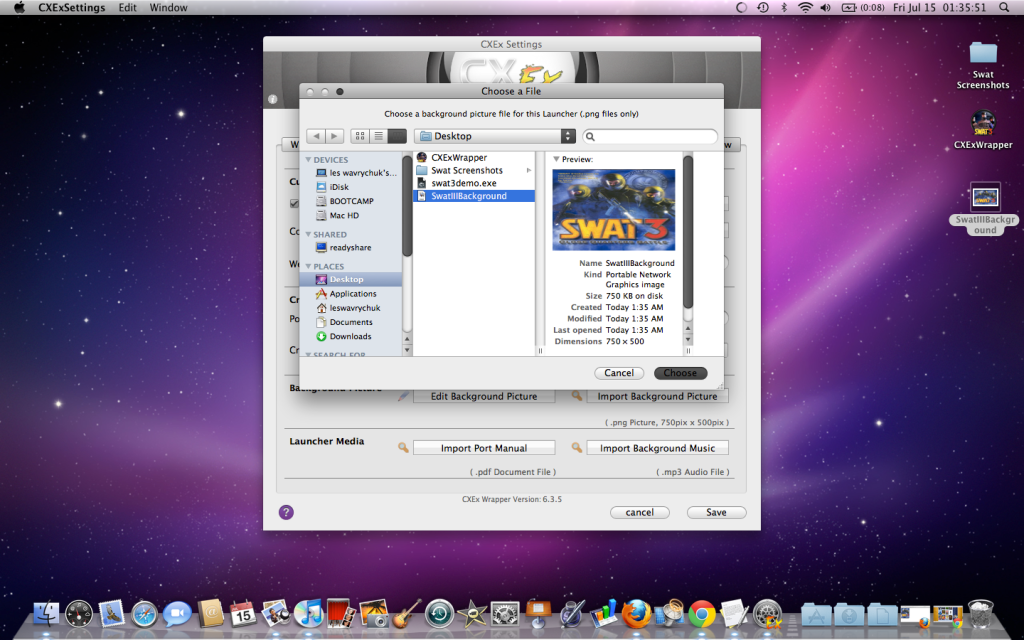 Our launcher now looks like this:
If your name looks bad as black on the background change it to white.
Next we will select our background music and import it. It will be in a .mp3 format. You can choose anything for your Wrappers music. I typically will choice music from the game. But you can chose what works for you.
Next we can chose our game manual - if you no longer have your manual I suggest checking out
Replacement Docs
It has several game manuals for several different systems.
Lastly we can setup a configuration file. Typically this could be a setup option or map editor, etc, pending the wrapper you are trying to create. Our demo does not have one so I chose the notepad.exe inside our wrapper to show an example.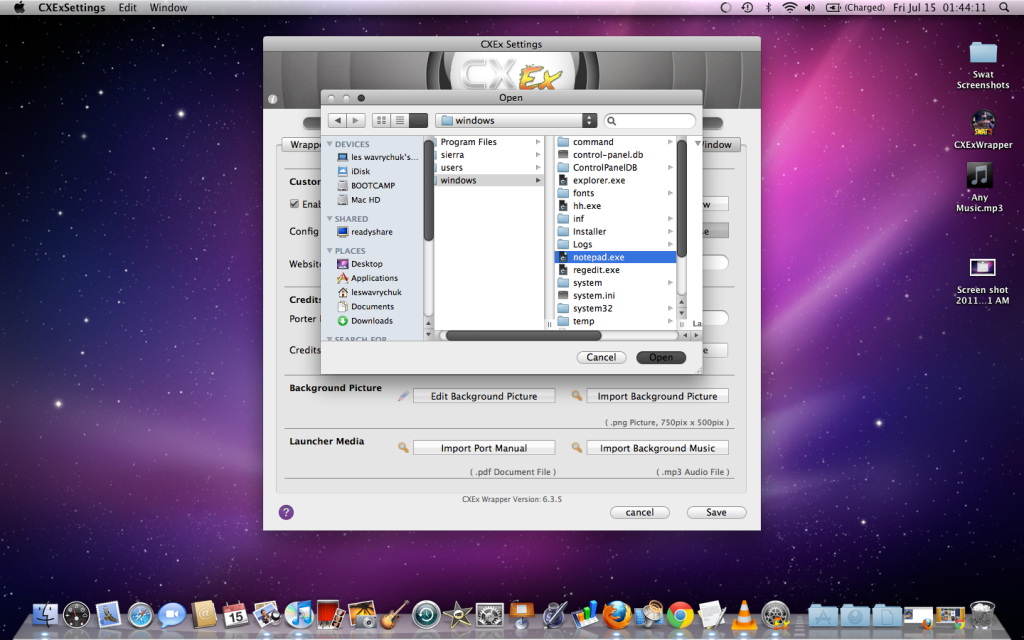 So now our Launcher is finished.
If we click on the Config file you can see that since we set notepad.exe to run when we click it, it will open that file.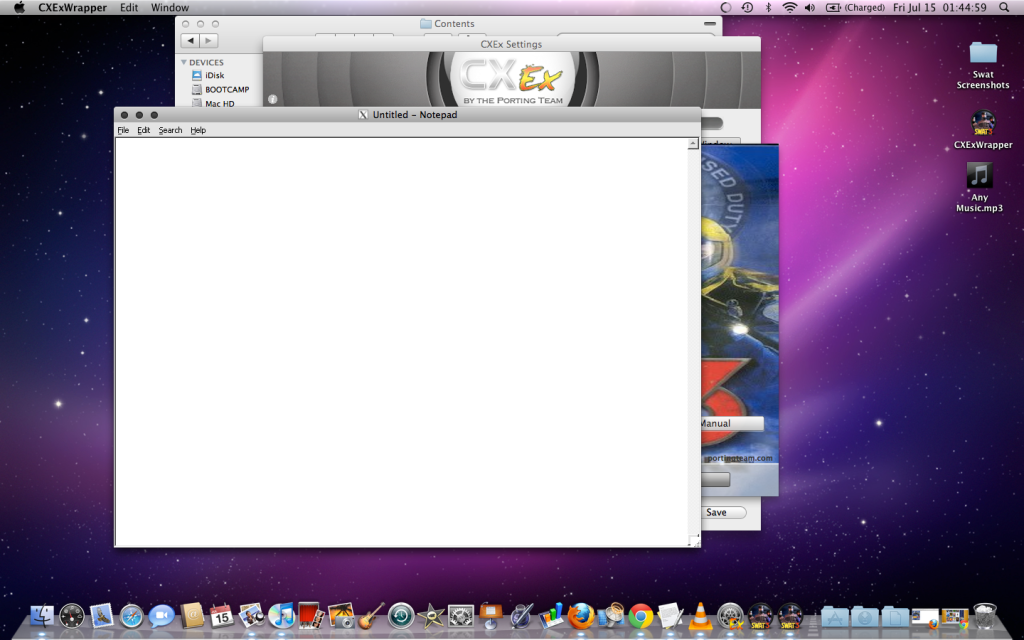 If we click on Manual now we can see that our manual file will open.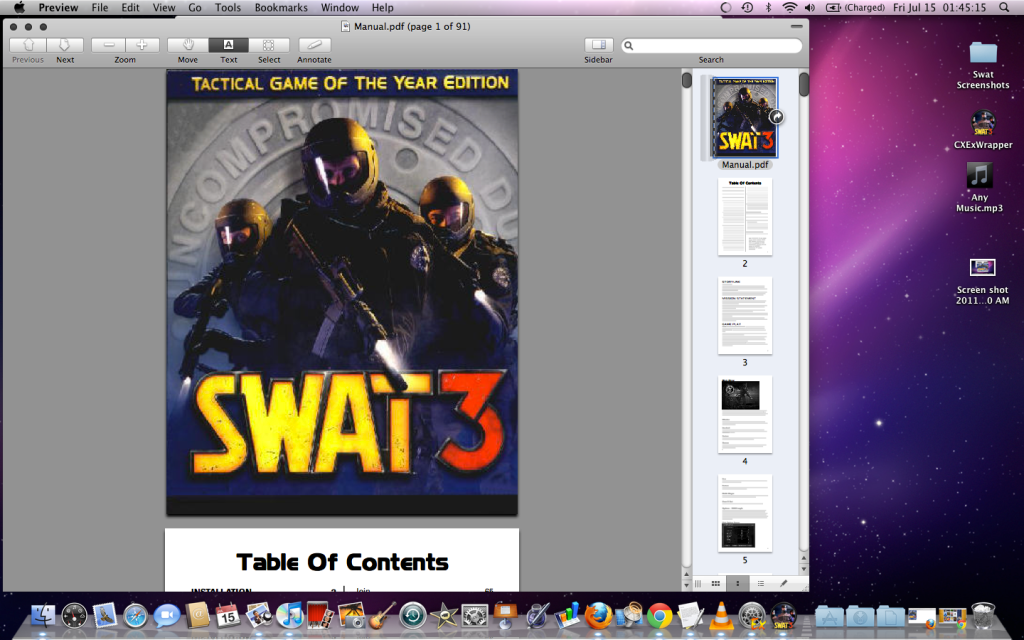 Now If you wish to change the website information you can. The default page is our website front page (@theportingteam.com) and the forum default is our forums. Feel free to change them if you wish. I always leave them as is.
After that, close the launcher and click save.
5. Final Touches
Now that we have created our custom launcher we can open the wrapper settings by right clicking the .app and choosing show package contents and navigate to the CXExSettings and click it to open it.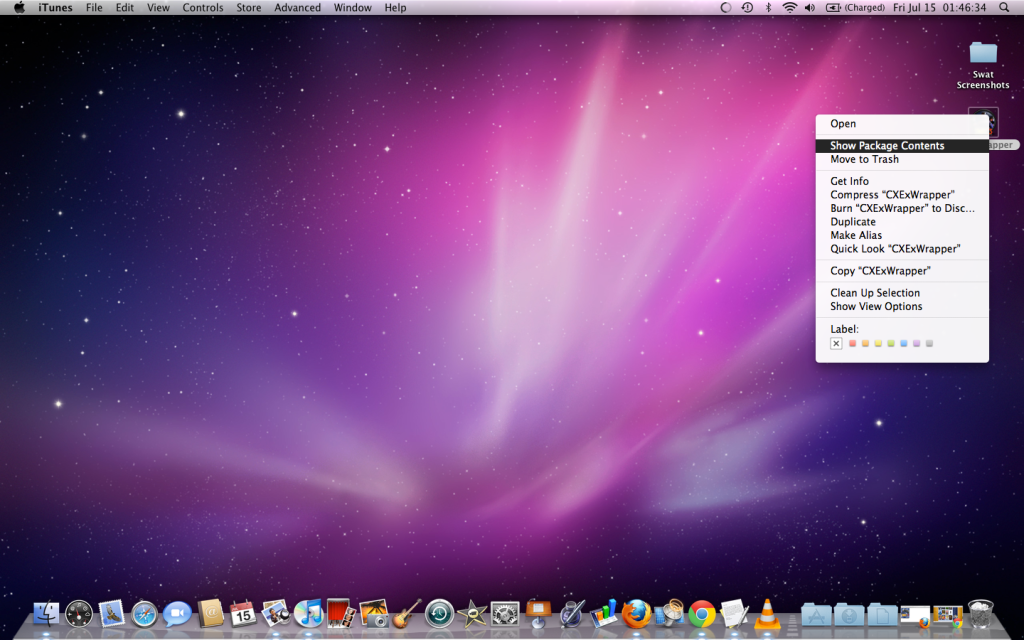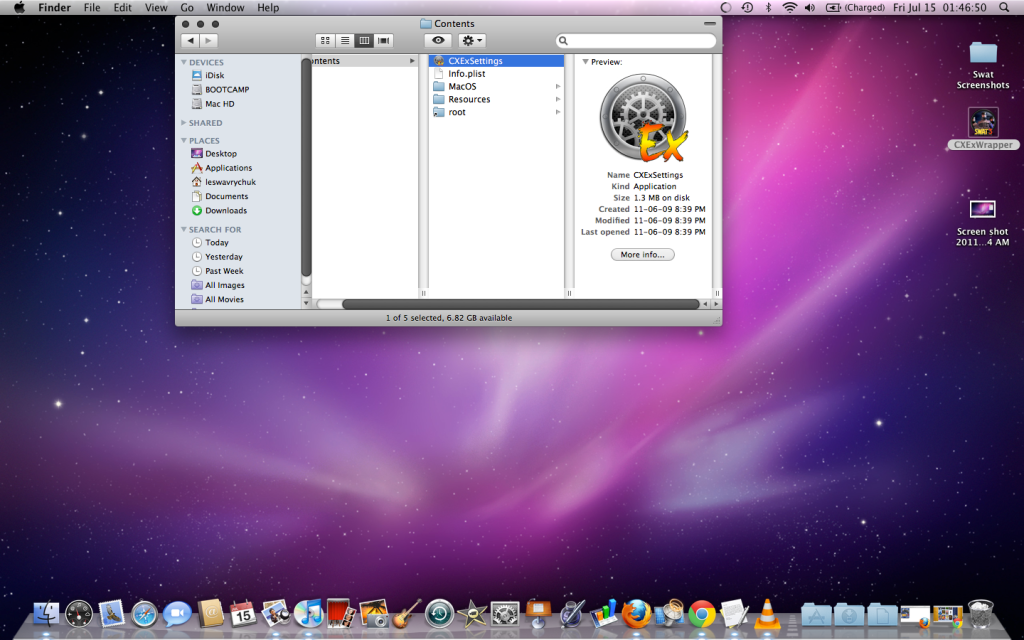 While the Game may appear to run good, it is probably a good idea to make it run better.
We need to update DirectX, to use a newer and better Version that the Game Installer installed with the Game.
You might heard of DirectX before, it's the advanced Software API Layer which MS Games and Apps use.
Click on Winetricks and click to d3dx9.
It will finish: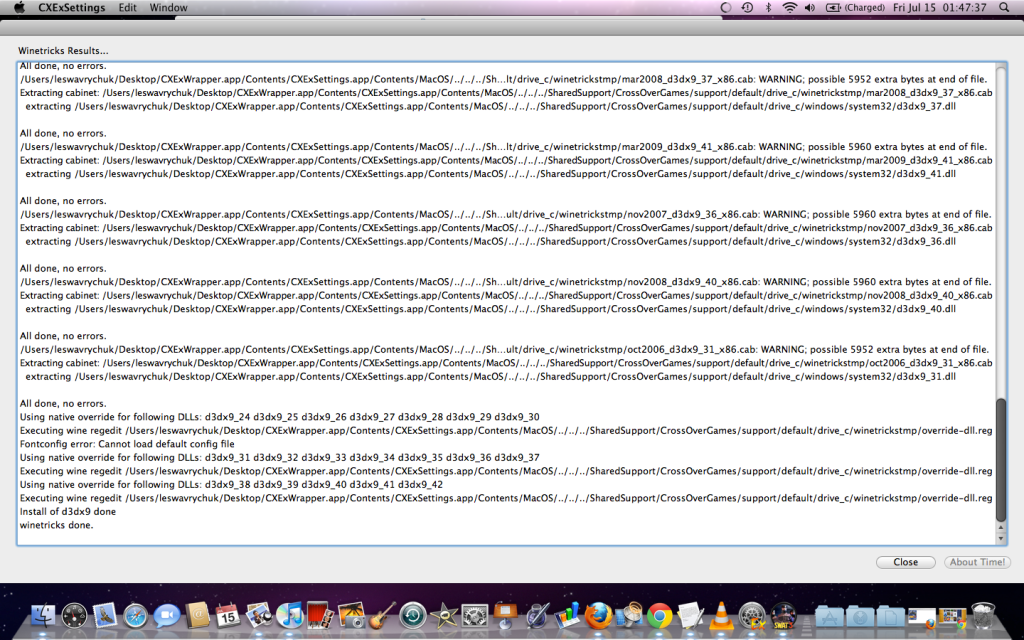 At any point while doing this we can check what we still have not done by clicking on View Wrapper Check List.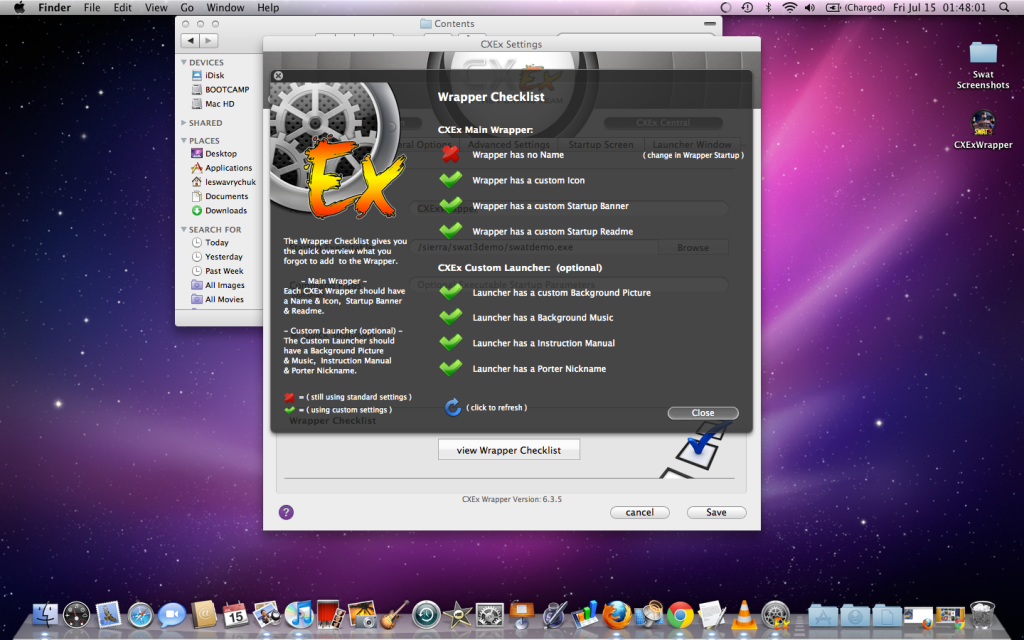 As you can see we still need to Name our Wrapper. I personally do this last. If you Wrapper name has space in it before using winetricks it will not work.
So Let us Name our Wrapper "Swat III Demo"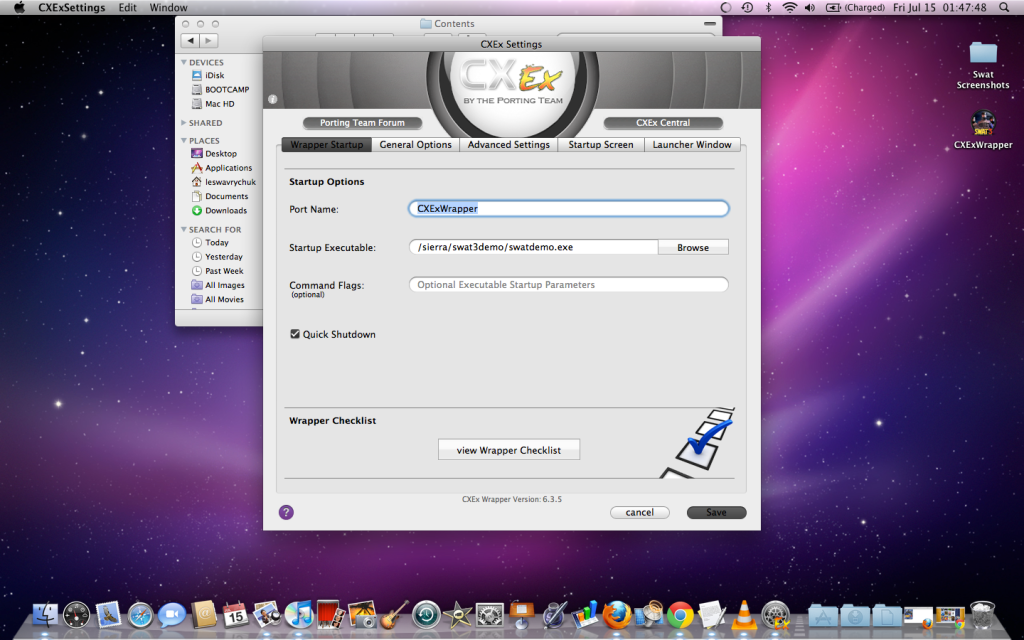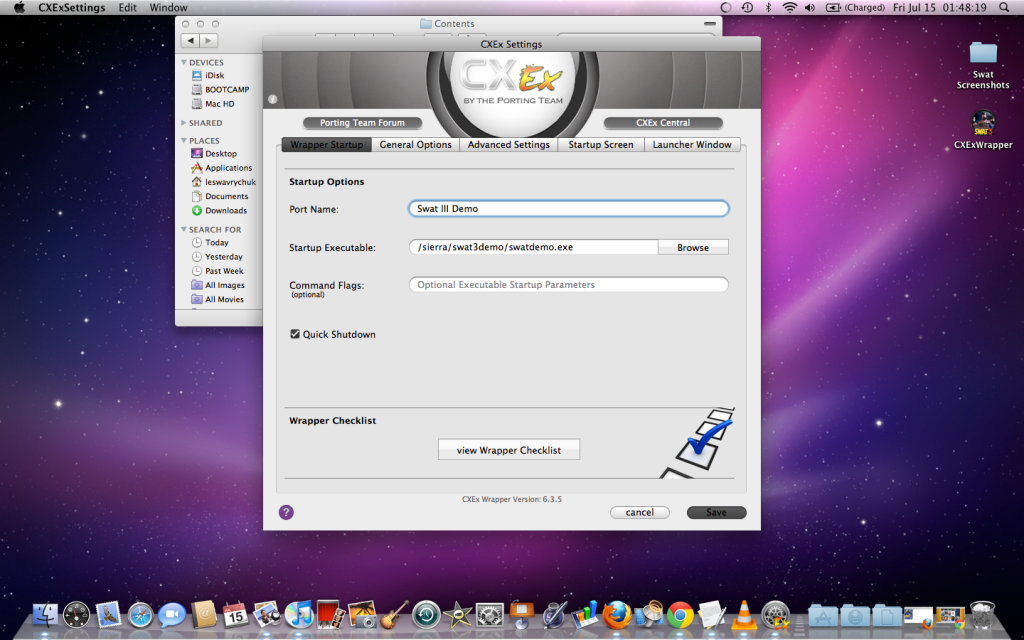 If we now click on View Wrapper Check List you can see we finished everything. Click save and quit.
Next is an optional step. We can lock the Wrapper information so noone can edit the port information and steal our hardwork. Navigate to Wrapper Settings and click Freeze Wrapper and we can choose our Swat III Demo.App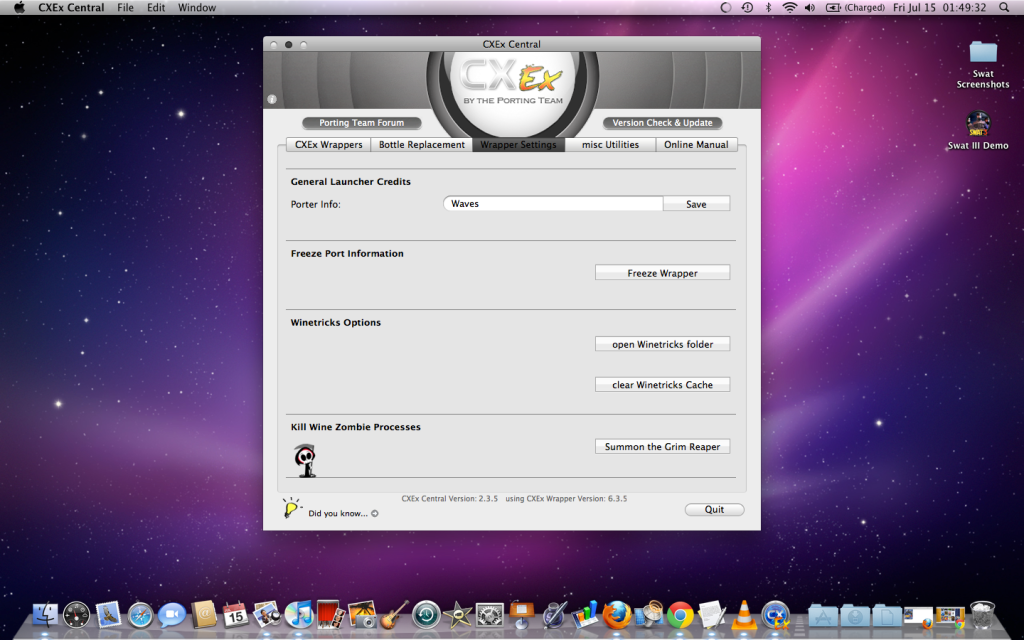 6. Playing the game
We can now click our app to play the game. It will bring up the Porting Team Information and our Port Information on the first time launching it.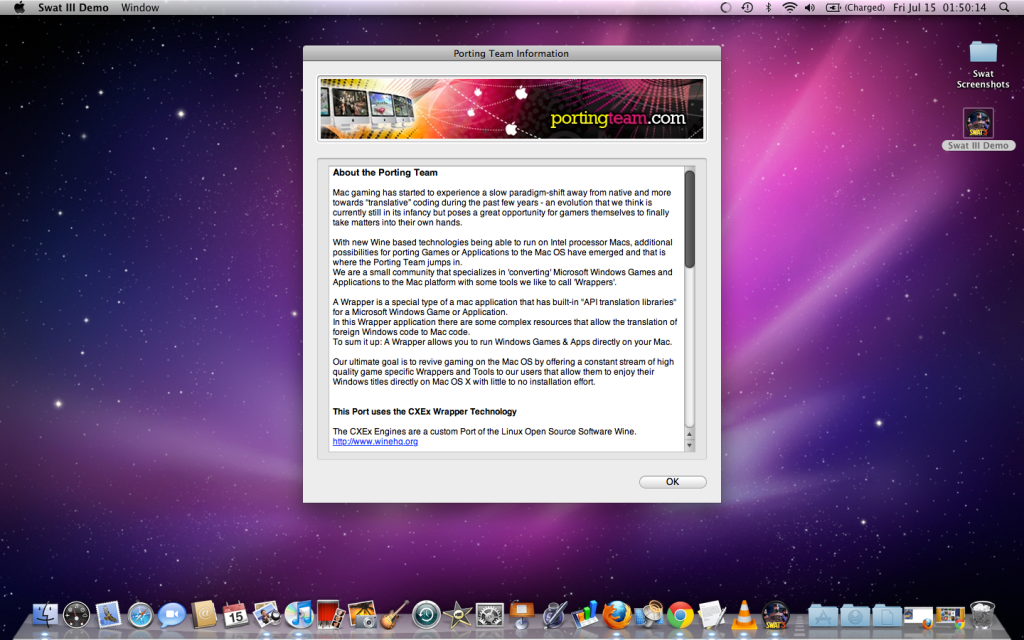 After that it will bring up our custom launcher.
Now we can play the game by clicking play. Below is pictures of the wrapper we made together working:
Congratulations! We have made a successful game port together!
7. Extras
If you wish to zip your port for storage or to upload you can do that with CXE Central. Open CXE Central and navigate to Misc. Utilities and click Wrapper Compression.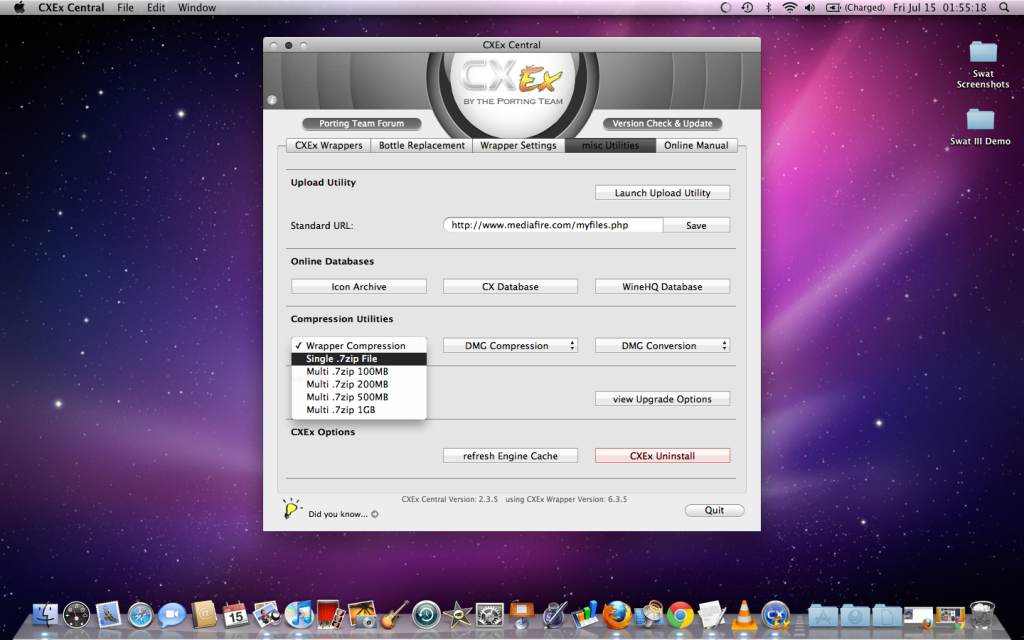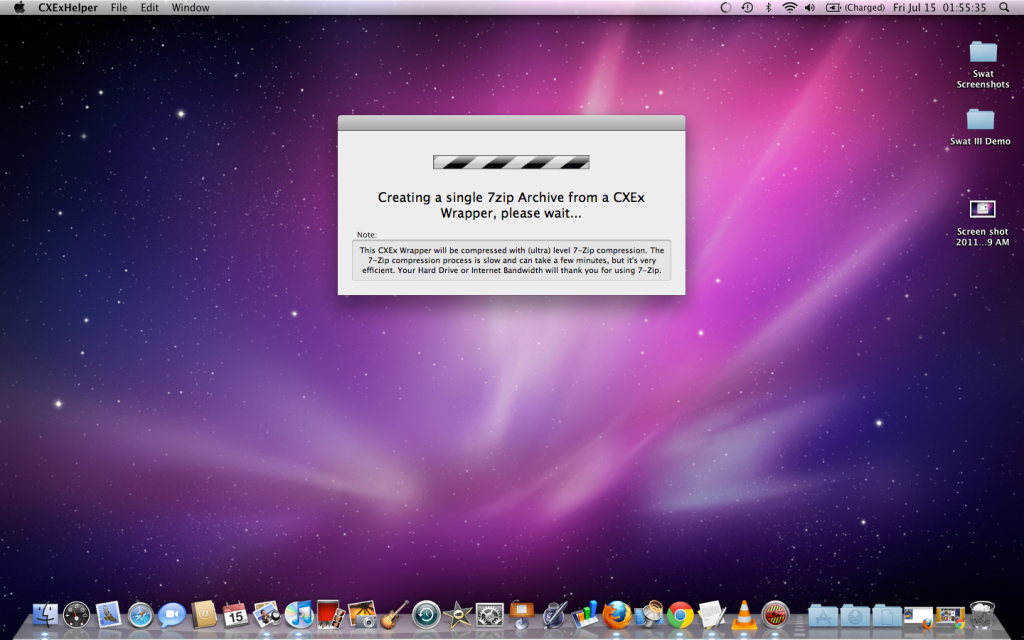 ------------------------------------
You can grab the windows version of the Swat III Demo
here
or
here
and use it as practice by following my guide to learn how create your own ports.
------------------------------------
Well that is the end of my guide I am sure there will be edits so we will call this version 1.0. I hope there is people that will find this useful. Please feel free to comment or make suggestions.
Cheers.